Nashville, the Music City, has emerged as one of the nation's hottest job markets in recent years. According to a report from The Wall Street Journal, Nashville's job market has grown at an astonishing pace, surpassing even larger cities like New York and Los Angeles. The city's strong economy, diverse job opportunities, and low cost of living have made it an attractive destination for job seekers and companies alike.
Let's take a closer look at what makes Nashville such a thriving job market and how you can take advantage of its opportunities.
Nashville's Job Market Growth
Nashville has experienced a job market boom over the past decade, with employment growing at a rate of 2.5% annually since 2010. That's higher than the national average of 1.7% and the growth rates of larger cities like New York and Los Angeles. In 2017, Nashville added over 36,000 jobs, with the largest gains in professional and business services, healthcare, and leisure and hospitality.
One of the driving factors behind Nashville's job market growth is its diverse economy. The city is home to a variety of industries, including healthcare, music and entertainment, education, and technology. This diversity has helped Nashville weather economic downturns and attract new businesses and talent.
Nashville's Cost of Living
One of the biggest draws for job seekers in Nashville is its low cost of living. According to the Council for Community and Economic Research, Nashville's cost of living is 4.4% below the national average. This means that your paycheck can go further in Nashville than in many other cities, allowing you to live comfortably and save money.
Nashville's Affordable Housing
Another factor contributing to Nashville's low cost of living is its affordable housing market. The city's median home price is $300,000, which is significantly lower than other popular job markets like San Francisco and New York City. This affordability has made Nashville an attractive destination for young professionals and families looking to buy their first home.
Nashville's Quality of Life
Nashville's job market growth and low cost of living are not the only factors attracting people to the city. Nashville is known for its vibrant music and entertainment scene, as well as its excellent food, outdoor activities, and friendly Southern hospitality. Whether you enjoy live music, exploring nature, or trying new restaurants, Nashville has something for everyone.
Nashville Job Market Opportunities
Nashville's job market offers a wide range of opportunities across many industries. Here are some of the top job sectors in Nashville:
Healthcare: Nashville is home to over 500 healthcare companies, including Hospital Corporation of America (HCA), the largest private healthcare provider in the world. Healthcare jobs in Nashville range from nursing and medical support to research and development.

Music and Entertainment: Nashville's music and entertainment industry generates over $10 billion in annual revenue and employs thousands of people. Jobs in this sector include music production, talent management, marketing, and event planning.

Education: Nashville is home to several major universities, including Vanderbilt University and Belmont University. Jobs in education range from teaching and research to administration and student services.

Technology: Nashville's tech sector has been growing rapidly in recent years, with companies like Lyft, Eventbrite, and Asurion opening offices in the city. Jobs in technology include software development, data analysis, and project management.

Hospitality and Tourism: Nashville's tourism industry has been booming in recent years, thanks in part to the popularity of country music and the city's many cultural attractions. Jobs in this sector include hotel and restaurant management, event planning, and tourism marketing.
Nashville Job Market
To get a better idea of Nashville's job market growth and opportunities, take a look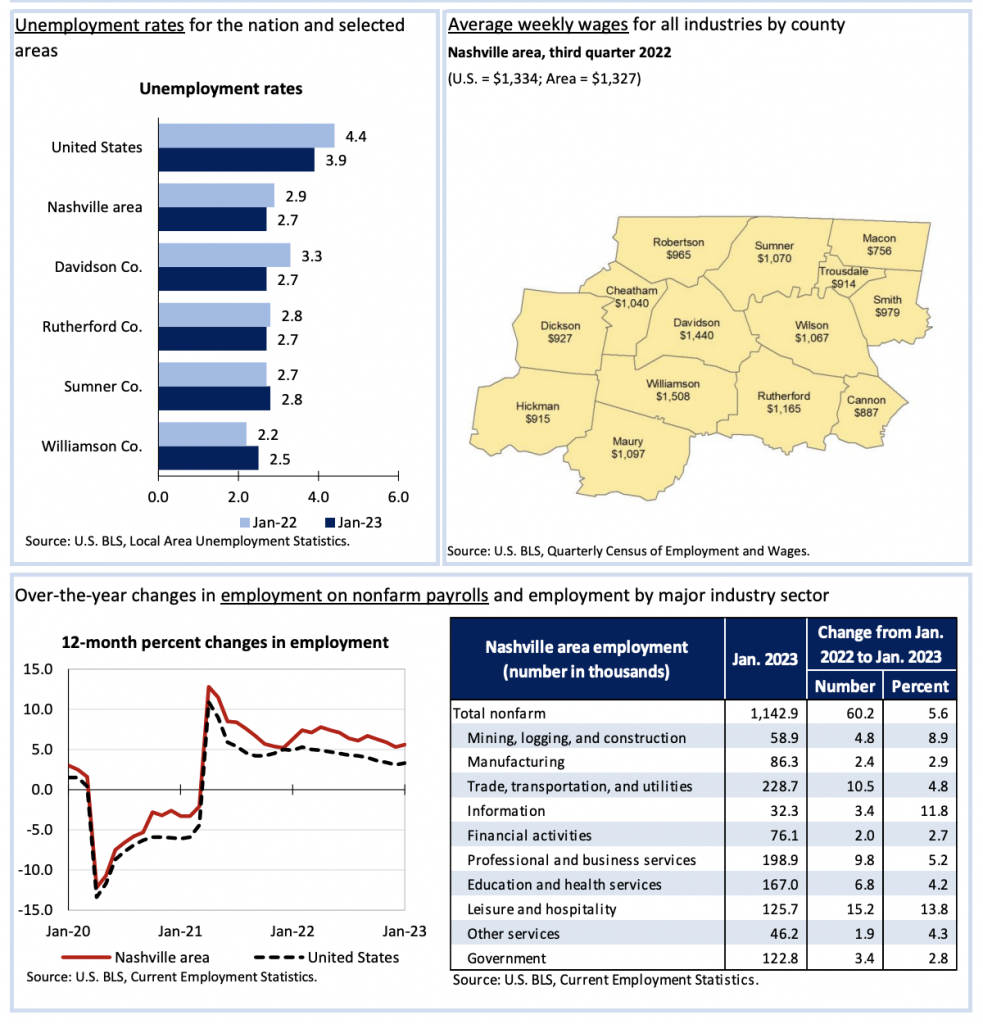 Image Source: Bureau of Labor Statistics
As you can see from the chart, Nashville's job market has grown consistently over the past decade, with significant gains in industries like healthcare, leisure and hospitality, and professional and business services.
How to Take Advantage of Nashville's Job Market
If you're interested in pursuing a career in Nashville, here are some steps you can take to take advantage of the city's job market:
Research job opportunities: Start by exploring job openings in Nashville's top industries. Websites like

Indeed

and

Glassdoor

can help you find job listings in Nashville.

Network: Reach out to people in your industry who work in Nashville or have connections to the city. Attend networking events and conferences to meet new people and learn about job opportunities.

Consider relocating: If you don't live in Nashville, consider relocating to the city. Research housing options and the cost of living to make sure that Nashville is an affordable option for you.

Build your skills: If you're interested in a particular industry, consider building your skills through online courses, certifications, or additional education. This can make you a more attractive candidate to employers in Nashville.

Apply strategically: When applying for jobs in Nashville, tailor your resume and cover letter to the specific job and company. Highlight your relevant skills and experience and explain why you're interested in working in Nashville.
Nashville's job market is one of the hottest in the nation, with strong job growth, diverse industries, and a low cost of living. Whether you're interested in healthcare, music and entertainment, education, technology, or hospitality and tourism, Nashville has something to offer. By taking advantage of Nashville's job market opportunities, you can pursue a rewarding career and enjoy a high quality of life in the Music City.